As I work from home, I see many field service workers coming and going during the day… from plumbers and electricians to renewable energy consultants to bathroom installers. Recently, I have begun to take a more active interest in their systems. Are they using a clipboard, a phone, laptop or tablet? It's amazing how much information you can gather by just observing.
Would it be fair to assume that the companies with the clipboards and the pens are not as professional as the companies with all the technology? I'm not sure I can leap to that conclusion just from my small amount of observation, but there are definite benefits that companies can derive by having the most efficient tools at their disposal.
I hope you find this article interesting and be sure to download our field service management checklist below.
Before we look at the When, let's discuss the How? How do I know if I should change my field service management solution?
There are some obvious signs to look out for including:

Scheduling Issues
Disconnected teams and planning
Limited visibility of who's doing what and when
Repeat calls and follow-ups
Low utilisation rates

Compliance & Safety Issues
Manual, time-consuming, inaccurate record keeping
Potential gaps in field staff safety procedures and protocols

Inventory Issues
Inventory losses and shrinkage
Slow billing
High administrative costs

Asset Management
Time spent locating assets
No asset history available to field workers, resulting in extra investigative processes
Time spent calling the office for information
Customer Service
Low referral rates
Customer complaints/chasing for information (location of technician, part availability etc)
Lost revenue/credit notes
Lost customers

Reporting/KPI's
Time consuming to compile/inaccurate/out-of-date
Lots of spreadsheets
Gaps in processes/workflows/disconnected reporting
If any of the above points are ringing some bells, the next important question is to work out the best time to change system.
When is the right time to invest in a field management solution?
In an ideal world, as soon as you grow to a certain size, you would have all your ducks in a row to change system in a nice calm and orderly fashion. The reality is that timing is never perfect, but you should look for the optimum time to switch system. Some consideration should be given to:

Busy/Quiet Periods
Is there a good time of year where you will have some breathing space to implement a new system?
But what if your business has no quiet time but is continuously getting busier?
We come across this dilemma time and time again. If you haven't yet reached this point, then it comes down to having a robust strategy for the business. Try to align your growth trajectory with a phased system implementation that is manageable, both from a financial and a resource perspective. The tipping point might be where you have a large tender pending and if you are successful in winning the contract, you may not be able to deliver it without having the systems in place to deliver it. But what if you take the plunge and the tender doesn't materialize?
This is where strategic planning comes in.
Understand what the next 1-3 years will look like. If your business is
 growing and your systems are inadequate to support this growth, then making that investment in your field service management solution can certainly help you plot and plan your growth with a greater degree of accuracy with up-to-date, real-time data.
If you have already reached this point where business is booming but your growth is being hampered by inefficient systems and processes, then this comes down to good project management and making sure the project is broken down into manageable phases with timelines that are realistic and achievable from both sides.

Resources
Having sufficient resources goes without saying, however assigning your "Key" people to the project is crucial.
The ideal scenario is to have a dedicated project team for the duration of project. They may be available on a part-time of full-time basis, depending on the size of your organisation, however having the right people with experience and skillsets is going to be a crucial success factor.
If the field service/operational system is part of a complete ERP system overhaul, then departmental representation is highly recommended for your project team.
Cut-Off
Is there a logical cut-off for the go-live?
Some customers choose month-ends or year-ends to switch over, but in reality, each customer has their own set of circumstances (internal or external) that will dictate the ideal time to change system.
Should my Field Service Management system work independently or be part of an ERP system?
I will give a slightly biased response to this question as we deliver an integrated NetSuite ERP and Field Service Management solution. NextService Field Service Management is built for and directly inside NetSuite, so you can run your entire business from one system.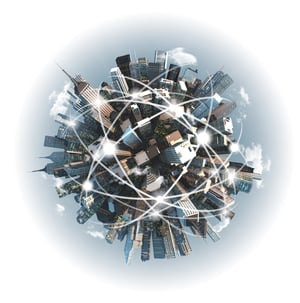 Nowadays, we live in a connected world. We have the information we need when we need it. Companies can see what's happening on the ground in their German or Australian subsidiary in real-time.
Accessing real-time project profitability across the group becomes invaluable. It makes sense that systems should facilitate data flows between departments with different users and roles accessing the data that is relevant to them. Processes and procedures become consistent and accurate with reports and KPI's falling out in the form of dashboards and data analytics. No more spreadsheets, dis-connected processes and gaps across the organisation.
Users become more efficient, first-time fix rates shoot up, project profitability should be more predictable, customers will love working with your company and everybody is happy.
Checklist:
If you're on the fence (no pun intended!) and are not sure about your next move, why not check out our easy-to-follow Field Service Management Checklist? It should help you to better understand what you need for:
Mobile Work Management
Customer Management
Job Scheduling
Field Service Intelligence and Analytics
If you would like to have a chat about your requirements for a Field Service Management solution, get in touch with our team on sales@ossmcloud.ie or call + 353 1 811 3811